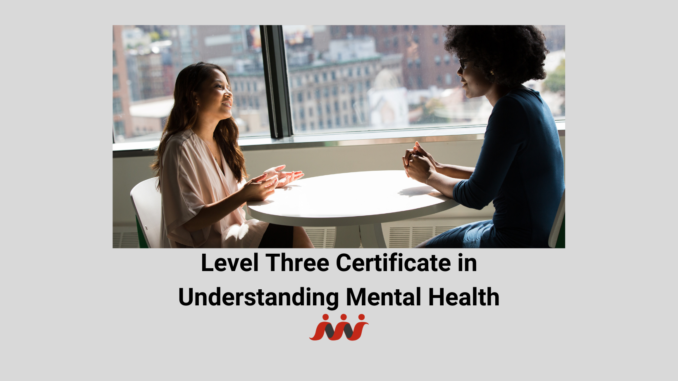 Level 3 Certificate in Understanding Mental Health starting April 2022
Delivered in partnership with Islington Adult Community Learning (IACL)
The importance of understanding mental health is increasing. Whether you work in healthcare, education, or business, understanding mental health is vital. What steps would you take to ensure mental health challenges are recognised and supported within your workplace?
Please note that this course is up to 12 weeks in duration, combining distance learning, e-learning, self-study, one-to-one support, and group training (either face-to-face or in a virtual classroom).
What is the Level 3 Certificate in Understanding Mental Health?
As the mental health crisis gains prevalence each year, it is important to have conversations surrounding this topic. Each organisation will need a mental health advocate to support the well-being of its team. Following a turbulent few years, stress and anxieties are increasing as we emerge from the pandemic. Many individuals may need support to adjust after a period of isolation and loneliness.
1 in 4 people will experience a mental health problem of some kind each year in England.
1 in 6 people report experiencing common mental health problems (such as anxiety and depression) in any given week in England.
The Level 3 Certificate in Understanding Mental Health aims to increase knowledge and understanding of mental health and well-being. All material is supplied via our online learning platform where you can download and read current relevant resources. On completion, this course can help learners progress into relevant employment within a variety of sectors, including health and social care, support staff already employed, and assist managers.
This course is accredited by the NCFE Awarding Body
Course Content:
The course content includes:
Understanding the context of mental health and well-being
Promotion of mental health and well-being
Mental health problems, associated issues and consequences
Understanding mental ill-health
Working in mental health
Who is the course designed for?
Learners must either be unemployed and on benefits or in paid employment earning less than £21,700 (excluding benefits) per annum (evidence such as most recent payslip as proof of earnings or current contract of employment will be required).
Learners, who hold a Level 3 or above qualification, must have obtained this before 1 April 2021.
Learners must live within London (or the Greater London) area.
Learners must be 19 years of age or over as of 31 August 2021.
Learners must have been resident in the UK or Ireland (Irish nationals only) for at least three years. EEA nationals (other than Irish) with pre-settled/settled status must have been resident in the EEA/UK for the last three years.
Method of delivery
The course will be blended.
One training day (10:00-15:00) every other week, plus distance learning support from a dedicated tutor on Zoom.
Assessments:
Two assessments will need to be completed via the online platform and can be carried out at your own pace.
Please note: during this period whilst we deliver training via a virtual classroom, learners will require access to a WIFI connection and a laptop or tablet.
Contact:
For further information, please contact courses@dcstraining.co.uk or call 020 7175 773 or 07751 658524.
IMPORTANT INFORMATION
Due to the current global outbreak of Coronavirus, we would like to update you on some innovative changes and measures that we are putting in place to make sure our customers are able to continue accessing training.
During this period we will deliver most of our courses via a virtual classroom unless indicated otherwise. For each course interactive sessions will be held with a course trainer via Zoom and participants will have access to all learning resources online. We will also enable you to arrange 1-2-1 sessions with your course trainer if additional assistance is required.
DCS remains committed to providing high-quality training solutions to enable you to develop your knowledge and skills and further your career!