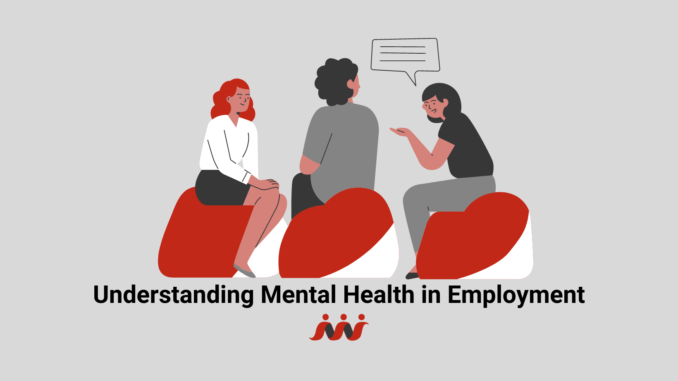 Trigger Warning: Depression and Anxiety
In England, 1 in 4 people will experience a mental health problem of some kind every year. Small acts of kindness can have a huge effect on somebody who is struggling.
It is predicted that having long-term mental health problems could reduce life expectancy by as many as 21 years due to the associated physical health problems. Certain factors can increase the likelihood of someone developing a mental health problem, however, mental health problems can ultimately affect anyone at any time.
For many of us, being at work is a huge part of our lives. Our workplace is where we socialise, connect and focus. We spend so much time in this environment meaning it is crucial that we explore mental health in the workplace.
It is said that addressing wellbeing at work can increase productivity by 12%
It is important to understand that different mental health problems can affect people in different ways and it is critical to understand an individuals experience. A persons experience can not be defined by their diagnosis. For example, somebody with anxiety could be severely impacted by their mental health, whereas another person with schizophrenia could live a nearly ordinary life.
Mental Health Problems in the Workplace – Characteristics:
Feeling and looking more tired than usual
Making uncharacteristic mistakes
Feeling unmotivated
Procrastinating
Timekeeping may slip
Difficulty keeping organised
Being short-tempered
Difficulty maintaining workplace relationships (Isolating ourselves, avoiding others or appearing distracted)
Becoming chaotic
Intruding others conversations
Taking on more tasks than manageable
Emotional outbursts
Absences from work
Not maintaining appearance
Why don't we speak about mental health more?
Awareness and conversations surrounding mental health are increasing. In spite of this, people with mental health problems still face discrimination, and challenges getting the right help. People who experience distress are likely to hide their feelings because of fear of other people's reactions.
One of the top reasons why people will not tell their colleagues about their mental health problems is due to fear of discrimination and feelings of shame.
Making adjustments to a persons workplace and routine could help accommodate their disability and improve productivity.
Examples of some helpful workplace and routine adjustments:
Edit working patterns to enable people to start or finish their work at a different time
Granting permission to work remotely
Allowing flexibility according to the severity of symptoms
Excusing someone from work functions and events involving food/alcohol
Accommodate networking arrangements to be inclusive to all (e.g. No food/alcohol)
Top tips to help your mental wellbeing:
Talk about your feelings
Keep yourself active
Eat well
Drink sensibly
Connect with colleagues
Ask for help
Take a break
Do something you enjoy
Accept who you are
Care for yourself
Care for others
Supporting a colleague:
Right time, right place
There is a right time for everything. When it comes to discussions regarding mental wellbeing in the workplace, it is crucial to speak about this when the person you're talking to is most comfortable. Set aside some time for a good conversation. You may need to have a more in-depth discussion at another time.
Active Listening
Staying engaged in the conversation, maintaining eye contact and ensuring body language is open will ensure your colleague will feel more comfortable speaking to you.
Manage your feelings
It can be hard hearing difficult or upsetting things, but you want to help and reassure your colleague. Ensure you do not show signs of surprise or judgement.
Avoid giving unsolicited advice
Refrain from giving advice and offering solutions. Ask your colleague how they would like the situation to be handled and take it from there.
Written by Amelia Banks (Social Media and Content Development)
Edited by Zoe Langhorn (Social Media and Business Development)
Information adapted from Mental Health Foundation and Mind