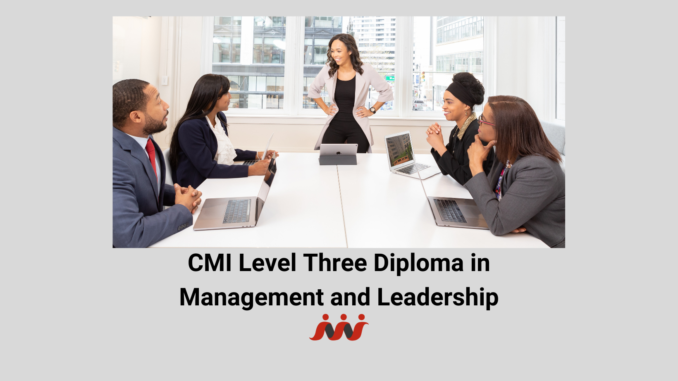 Delivered in partnership with Islington Adult Community Learning (IACL)
Please note that this course is approximately 5 to 6 months in duration, combining distance learning, self-study, one to one support and group training (either face-to-face or in a virtual classroom).
What is the Level 3 Diploma in Management and Leadership course?
The Level 3 Diploma in Management and Leadership is ideal for junior and team leaders and aspiring team leaders who are accountable to more senior managers or business owners. The primary role is to set and monitor goals and objectives by providing instruction and guidance to their team. It aims to develop key skills: the art of effective decision making, developing and managing team dynamics along improving delegating capability to name a few.
Course content:
To achieve the Diploma, learners must complete any combination to a minimum of 370 TUT hours to achieve this qualification. This can be achieved through a combination of modules. The most appropriate modules can be selected after discussion with your tutor. Available modules include:
Principles of management and leadership
Managing a Team to Achieve Results
Managing Individuals to be Effective in their Role
Principles of Communication in the Workplace
Monitoring Quality to Improve Outcomes
Managing Data and Information
Managing Meetings
Supporting the Delivery of Customer Service
Who is the course designed for?
You must NOT already hold a Level 3 qualification
You must live in London or the Greater London area
You must be 19 years of age or over
You must have been resident in the UK for at least three years.
To attend the virtual and face to face classroom workshops, learners will require access to a WIFI connection and a laptop or tablet.
Method of delivery
The course will be blended: a mixture of distance learning plus online and face-to-face training.
It will include up to 12 days of group training (either face-to-face sessions or virtual sessions on Zoom). Assignments are available from (and are submitted to) an allocated tutor who will mark and provide feedback.
Completion of an assignment for each unit.
No examinations
Candidates are assigned a Tutor
Outside of the face-to-face and Virtual training, tutors are available by telephone, Zoom and email to discuss course content/materials and provide support and guidance with assignments
All course materials are available online, so you can complete the course with flexibility.
Key Benefits
You will gain significant improvement in a wide range of management and supervisory techniques.
The development of qualities and skills will assist you in your promotional prospects and lead to successful career progression.
Learners will receive access to the CMI Management Direct online support repository as part of their registration.
Using the course assignments, you will study management theories and models that will assist in a wide range of practical work scenarios. These will allow you to solve work-based problems with increased competency.
The course leads to a recognised, professional qualification, where credits earned during the course are transferable into other programmes within a similar discipline.
Contact
For further information, please contact: courses@dcstraining.co.uk
or call: 020 7175 7735 or 07751 658524
IMPORTANT INFORMATION
Due to the current global outbreak of Coronavirus, we would like to update you on some innovative changes and measures that we are putting in place to make sure our customers are able to continue accessing training.
During this period we will deliver most of our courses via a virtual classroom unless indicated otherwise. For each course interactive sessions will be held with a course trainer via Zoom and participants will have access to all learning resources online. We will also enable you to arrange 1-2-1 sessions with your course trainer if additional assistance is required.
DCS remain committed to providing high-quality training solutions to enable you to develop your knowledge and skills and further your career!